15/05/2012 MICHAEL MANRING Bass Clinic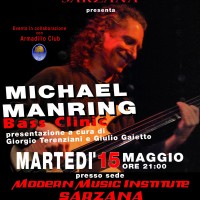 Modern Music Institute Sarzana, in collaborazione con Armadillo Club, presenta il seminario di Basso Elettrico con lo straordinario MICHAEL MANRING, bassista e didatta di fama internazionale che si è imposto per l'approccio totalmente unico e inconfondibile sullo strumento che include accordature, tecniche e metodologie non ortodosse.
La presentazione del seminario sarà curata da Giorgio Terenziani, responsabile di cattedra MMI del reparto di basso, e Giulio Gaietto, docente di basso di Modern Music Institute Sarzana.
L'evento si terrà Martedì 15 Maggio alle ore 21:00 presso la sede Modern Music Institute di Sarzana (SP) situata in Via Variante Aurelia n°100.
L'evento (al termine del quale verrà rilasciato l'attestato di partecipazione) è a numero chiuso, per cui è richiesta la prenotazione, il prezzo è di 25 €.
Per info e prenotazioni: 380 7508841 – mmi.liguria@gmail.com – www.mmisarzana.com
MICHAEL MANRING
"the hottest bassist today"
(Washington DC, 1960) Originario della Virginia, laureato alla scuola di musica Berklee, Michael Manring iniziò la sua carriera suonando discomusic e fusion nelle discoteche di Washington.
Le sue sperimentazioni sul basso elettrico contribuirono (e tutt'ora contribuiscono) ad elevare il ruolo del basso elettrico nella musica contemporanea seguendo l'impegno del suo "maestro" ideale Jaco Pastorius, con il quale ha studiato e di cui era allievo prediletto. Le sue caratteristiche principali sono: uso di accordature particolari, velocità e magistrale uso degli armonici.   Michael Manring è considerato il più grande innovatore che abbia mai suonato il basso elettrico dalla sua invenzione nel 1951. Qualcuno ha detto che, assieme a James Jamerson e Jaco Pastorius, Michael è la terza colonna portante del basso elettrico.
Oltre ad essere stato per anni il bassista ufficiale della Windham Hill Records, Manring ha inoltre inciso e suonato con Michael Hedges, in tutte le registrazioni prima della sua prematura scomparsa,  con Alex Skolnick (nelle band Skol-Patrol e Attention Deficit, che vedevano inoltre alla batteria Tim (Herb) Alexander dei Primus), Daniele Gregolin, Larry Kassin, Tom Darter, Steve Morse, David Cullen, Patti Larkin, e molti altri famosi musicisti.  È stato membro del progetto Yo Miles!, La Miles Davis tribute band fondata da Henry Kaiser e Wadada Leo Smith, sin dalla sua fondazione.   È tutt'oggi impegnato in Tour e Clinic che lo vedono protagonista in diversi paesi del mondo, amato da tutti gli ascoltatori e rispettato come un virtuso estremo dello strumento per il suo uso continuo di accordature aperte, cambi di accordatura durante le  esecuzioni, effetti inusuali e pionieristici: arriva a suonare anche due o tre bassi alla volta durante i concerti,  come testimonia la sua storica composizione My Three Moons.
Suona bassi Zon, con cui ha anche progettato il suo personale modello, l'Hyperbass.
Il nuovo cd, "SOLILOQUY", è il migliore esempio della sua straordinaria creatività per basso "solo", anche se  continua la sua carriera come musicista fondamentale a fianco di nomi prestigiosi della musica contemporanea: lo possiamo trovare con la tasterista new-age Susanne Ciani, con il chitarrista Henry Kaiser, ad un festival folk con John Gorka, con il chitarrista Alex De Grassi, oppure alle prese con il suo trio punk-jazz di Seattle, i Sadhappy…e tutto questo perché , come ama dire lo stesso Michael, "it's all music!".
Il segreto della sua abilità a trovarsi a proprio agio con stili musicali così differenti è senza dubbio  l' incredibile amore per la Musica nella sua totalità e per il suo strumento.
Speriamo possiate seguire il consiglio della rivista francese "Musicien" : "Non perdete la prossima opportunità di scoprire il bassista più genuino e innovativo dei nostri giorni"
www.manthing.com
MICHAEL MANRING SELECTED DISCOGRAPHY
Solo Albums:
Unusual Weather (Windham Hill)
Toward the Center of the Night (Windham Hill)
Drastic Measures (Windham Hill)
Thonk (High Street)
The Book of Flame (Alchemy)
Soliloquy (Manthing Music)
with William Ackerman:
Past Light (Windham Hill)
Conferring with the Moon (Windham Hill)
Imaginary Roads (Windham Hill)
The Opening of Doors (Windham Hill)
Sound of Wind Driven Rain (Windham Hill)
with Altazor:
Concurrencia (Redwood Records)
with Darol Anger.
Heritage (Six Degrees)
with Darol Anger and Mike Marshall:
Chiaroscuro (Windham Hill)
with Enzo Avitabile:
Enzo Avitabile (EMI)
with Keola Beamer:
Dancers in the Land of Po (Dancing Cat)
with Kurt Bestor:
Sketches (BWE)
with Ken Bonfleld:
Homecoming (BWE)
Winternight (BWE)
with Evan Brubaker:
Third Floor (Cake)
with Suzanne Ciani and The Wave:
Live! (Seventh Wave)
with Barry Cleveland:
Volcano (Supersaturated)
with Cloud Chamber:
Dark Matter (Supersaturated)
with Larry Conklin:
Stranger World (Inak)
with April] Cope:
Two Moons (Acorn)
with Peppino D'Agostino:
Acoustic Spirit (Shanachie)
with D'Cuckoo:
Umoja (RGB)
with Jim Farrand:
3am on a Tuesday (Cake)
with Paolo Giordano:
Paolo Giordano (Step Musique)
with John Gorka:
Jack's Crows (High Street)
Temporary Road (High Street)
Out of the Valley (High Street)
Between Five and Seven (High Street)
After Yesterday (Red House)
with Michael Hedges:
Breakfast in the Field (Windham Hill
Aerial Boundaries (Windham Hill)
Watching My Life Go By (Open Air)
Live from the Double Planet (Windham Hill)
Taproot (Windham Hill)
Oracle (Windham Hill)
with Danny Helnes:
One Heart Wild (Silver Wave)
With Barbara Higbie:
Signs of Life (Windham Hill)
with Henry Kalser and Wadada Leo Smith:
Yo Miles! (Shanachie)
with Patty Larkin:
Tango (High Street)
Angels Running (High Street)
Perishable Fruit (High Street)
with Mike Marshall:
Brasil Duets (Earthbeat)
with Monks of Doom:
Forgery (IRS)
with Montreux:
Sign Language (Windham Hill)
Let Them Say (Windham Hill)
with Holly Near:
Sky Dances (Redwood)
with Carlos Reyes:
The Beauty of it Ali (TBA)
with Sadhappy:
Good Day, Bad Dream (Periscope)
with Tadamltsu Salto:
A Perfect Match (Access Music) It's About Time (Access Music)
with Schonherz and Scott:
Under a Big Sky (Windham Hill)
with Richard Schonherz:
A Different Mozart (imaginary Road)
with Alex Skolnlck and Tim Alexander:
Attention Deficit (Magna Carta)
with the Skol Patrol:
The Skol Patrol (Gray Streak)
with Douglas Spotted Eagle:
Closer to Far Away (Windham Hill)
Pray (Higher Octave)
with Turtle island String Quartet:
By the Fireside (Windham Hill)
with Trapezold:
Moon Run (Narada)
with Kym Tuvim:
Kym Tuvim (Cake)
with Alex De Grassi:
Demania
with various artists:
An Evening with Windham Hill Live
A Winter's Solstice II (Windham Hill)
A Winter's Solstice III (Windham Hill)
Windham Hill Guitar Sampler II(Windham Hill)
A Winter's Solstice V (Windham Hill)
A Winter's Solstice V (Windham Hill)
A Winter's Solstice Vi (Windham Hill)
Bass Player Magazine Fifth Anniversary CD (BP)
The SWR Sound (SWR)
The Carols of Christmas (Windham Hill)
A Very Green Christmas (Seventh Wave)
Summer Solstice (Windham Hill)
A Winter Solstice Reunion (Windham Hill)
Thanksgiving (Windham Hill)
with Rob Young:
Sticks and Stones (Imaginary Road)
pwith Trapezold:/p