Aprile 2014 – LA BATTERIA: from Mic to Mix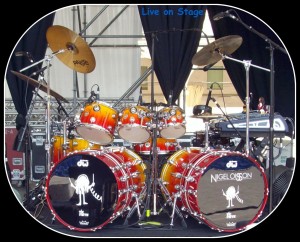 Comunichiamo che il seminario "La Batteria: From Mic to Mix"  originariamente previsto per il week end 15/16 Marzo è rimandato, a causa di alcuni problemi imprevisti, al mese di Aprile.
Annunceremo al più presto le nuove date in cui si terrà l'evento. 
Il seminario Live on Stage di aprile 2014 è dedicato allo strumento con cui, tradizionalmente, si inizia il sound check.
Il programma del seminario affronta tutti gli steps, da scelta e posizionamento dei microfoni fino al mix, passando ovviamente per controllo della fase, eq, trattamento dinamico, effetti ecc.
Per la prima volta nei corsi Live on Stage è prevista anche una parte pratica: grazie alla presenza di due batteristi professionisti (in sala separata) sarà possibile sperimentare diversi tipi di ripresa microfonica, registrare in multitraccia e, in seguito, provare diversi tipi di processing dei segnali.
Programma dettagliato:
- Acustica applicata
- Capire i microfoni
- Gusto e contesto, esempi celebri
- Setup e accordatura
- Microfonaggio: pratica, ascolto, fase
- Sub kick e altre opzioni
- Gestione nel live (monitoraggio ecc.)
- Eq
- Processori dinamici (expander, gate, comp)
- Processori dinamici power use (side chain, compressione seriale e parallela, multibanda ecc)
- Transient designer
- Reverb & delay
- Altri effetti (exiter ecc.)
- Tips & tricks
- Monitoraggio
Il seminario, al termine del quale verrà rilasciato l'attestato di partecipazione, sarà tenuto da Gian Luca Cavallini e si terrà presso Modern Music Institute Sarzana (MMI Sarzana) secondo i seguenti orari:
Sabato 15 marzo 2014: ore 10:00 – 19:00
Domenica 16 marzo 2014: ore 9.30 – 18.30
Info: gianlucacavallini@gmail.com
Iscrizioni: mmi.liguria@gmail.com / 3450229871
Louder! stage monitor history 01
p
p